Hey guys! I'm Becky from "Talking Nonsense And Awkward Life Experiences" (http://www.beckacerratops.wordpress.com) 
Tarika has been kind enough to let me do a guest post on her blog so HI NEW PEOPLE!
Little Bit About Me And My Blog:
I'm 19, I'm from Ireland and I've been blogging for about a month now. I do beauty, fashion and lifestyle posts mainly with some odd ideas a liked thrown in (: So if you want the link is above give it a look!
The Review:
Today I'm going to review the W7 In The Nude Eyeshadow Pallette. I bought this last Friday and I've only gotten to use it twice but I already love it! It's only €10 so it's a great bargain and worth spending (: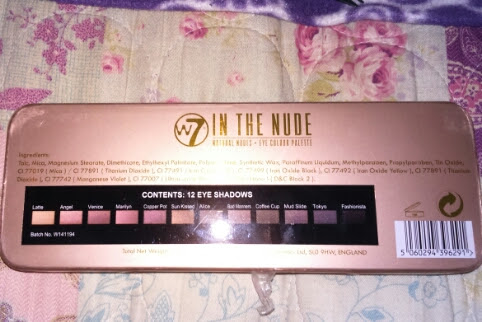 I love the colours, they have a range of colours throughout the different palettes but these colours were my favourites, they're mainly shimmery pinks and browns. The pigmentation is by far my favourite out of every eyeshadow pallette I've ever used, however, you do need to build it up, especially with the lighter colours.
The colours do blend so lovely together and help to give a great look whatever you're doing and they go on so soft!
I use my Ecotools eyeshadow brushes (there's a review on my blog if you'd like to check it out) to apply and they go on great.
The Colours (from left to right)
Latte
Angel
Venice
Marilyn
Copper Pot
Sun Kissed
Alice
Bad Manners
Coffee Cup
Mud Slide
Tokyo
Fashionista
All in all I'm really happy with this pallette and I'll definitely be purchasing some of the others!
I hope you guys liked this post and I'd love to hear if you've ever used this palette or if you would after this review!
…
Thanks to Becky for this lovely post, you should all go check out her lush blog (the link is at the top!) If anyone would like to doa  guest post here, just like Becky, then just contact me…
Email: cherryblossom15blog@gmail.com
Twitter: @CherryB15blog
Instagram: @cherryb15blog